Description
Details
Card printing plays an important role in your business. You want a card printer that can print virtually any type of card with blazing speed, while minimizing the impact on your operational efficiency and workforce productivity - a card printer that's flexible, secure, easy to set up, easy to use and easy to manage. You can have it all with the ZC350. 
You get complete card printing flexibility - single or double-sided, color or black and white, with specialty ribbons that offer special effects that will impress card recipients and make your cards hard to counterfeit, such as color-shifting graphics, watermarks and metallic colors.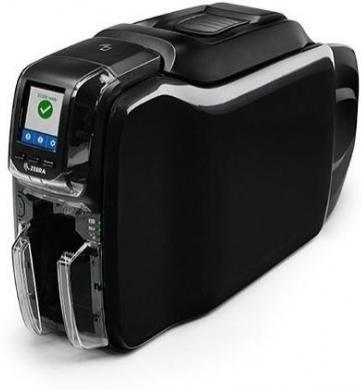 Comprehensive encoding options allow you to easily create cards for any type of transaction via any type of transaction protocol contact, contactless, proximity or magnetic stripe.
Characteristics:
Dye-Sublimation - direct heat transfer to a card

USB & Ethernet

Edge to edge printing 

Automatic ink ribbon calibration

Input / output capacity: 100 cards

Color and monochrome printing, single or double sided

1000 cards / hour for monochrome single-sided printing

225 cards / hour for YMCKO duplex printing

150 cards / hour for duplex printing YMCKOK

500 cards / hour for monochrome duplex printing
Remote Installation of Plastic Card Printer

Install your new printer easily, quickly and safely with Novatron Remote Plastic Card Printer Installation Service.
The installation is done online, through the AnyDesk application, a specific appointment is set with a specialized technician, without requiring a visit of our technician to your place.
For more information about the Service, select it in the "Related Products".
Additional Information
Additional Information
| | |
| --- | --- |
| Availability | Άμεσα Διαθέσιμο |
| SKU | PN12331   |
| MANUFACTURER | ZEBRA |
| MANUFACTURER PART # | ZC35-000C000EM00 |
| PRINT METHOD | Dye Sublimation |
| RESOLUTION | 300 dpi |
| Color Speed | 200 |
| Mono Speed | 850 |
| Input Hopper Capacity | 100 |
| Output Hopper | 100 |
| INTERFACE | ETHERNET, USB |
| WARRANTY | 2 years |
Product Downloads
Product Downloads
Datasheets - Broshures